Keynote speaker Tina McDuffie shares experiences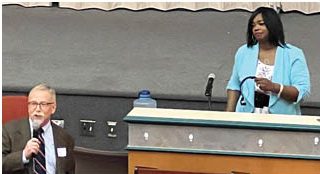 Tina McDuffie, an associate professor of the practice of journalism at Boston University, shared her experiences with students looking to follow in her footsteps as she gave the keynote speech at the New England Scholastic Press Association's annual conference Friday, May 5.
McDuffie said she discovered her interest in journalism giving the morning announcements at Cambridge Rindge and Latin School.
"I've learned that it is incredibly important for young journalists to always be engaging, listening and learning to get a sense of the world around them," she said.
McDuffie is the host of the Local, USA series on WORLD Channel Network, a national half-hour news documentary program. WORLD Channel is based at WGBH in Boston.
She has reported regularly for the WGBH local television program Greater Boston and has served as a fill-in host for the stations long-standing television program Basic Black.
Throughout her presentation in Morse Auditorium, McDuffie engaged with the crowd. At one point, she asked the students to raise their hands if they considered themselves inquisitive people.
"I'm definitely a naturally curious person, and a lot of you in this room are too," she said. "When something unusual happens around me, the first question I always ask myself is Why?" McDuffie said.
"When doing my job, I try to follow my instincts and my own natural curiosities for reporting."
McDuffie emphasized that commitment is a key component in what makes a good journalist.
"The reason I am up here today is that I enjoy doing this," she said. "I've had the help of a lot of people, but my focus in this field really drove me along."
McDuffie inspired the audience with her motivational words and the passion she has for journalism, sharing her personal experiences as well as telling students to follow their passion and develop their talents.
"To become a journalist, you need to learn what the journalists before you have been through and their paths to becoming who they are now," she said.
"In order to be who you want to be, you need to have people around you who believe in you, but most important, you need to believe in yourself."
She told the audience to consider the five best skills they have as individuals and to start thinking about the future jobs that will open up based on those skills.
"It is important to know there is no one like yourself, and in order to be successful, you need to know your strengths and abilities," she said.
"In life it is really important to go for the things you are interested in and that make you want to ask more questions."
Kerry Frey and Julienne Montrond of The Cypress at Brookline High School and Audrey Welstead of The Newtonite at Newton North High School contributed to this story.